How to Rotate a PDF Document
1
Download a PDF editor capable of rotating pages
Firstly, you need to download the free program to rotate PDF on your computer. Download Icecream PDF Editor from our website. Double-click the downloaded EXE file and run the setup process. Launch the program to proceed to rotating the pages of your PDF.
2
Open the PDF document you want to rotate
Click the "Open..." button in the middle of the window of Icecream PDF Editor to browse your computer for the PDF file using Windows Explorer. Another way to open the document is the "Open..." option of the "File" menu's drop-down list. You can also use the drag and drop mechanism to open the PDF documents within the program.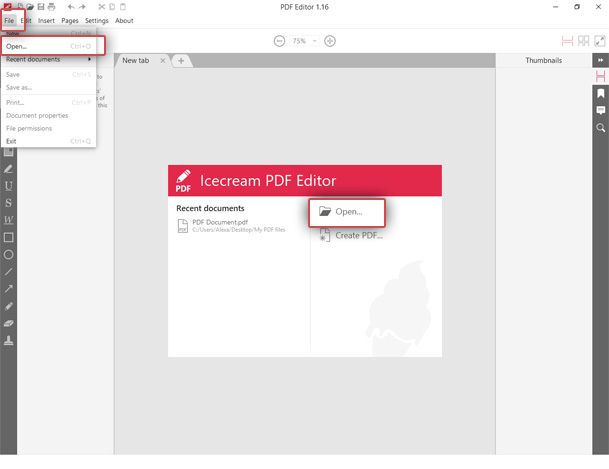 Before rotating the pages, you need to select which pages you wish to rotate.
Single-page rotation
Find the page of the document you want to rotate (scroll through the file) or select the page in the navigation's right-hand panel in "Thumbnails."
Multiple PDF pages rotation
To select detached pages of a PDF to rotate, you will need to use the "Thumbnails" navigation panel in the right-hand side of Icecream PDF Editor. Click the page's thumbnail from the list to select it. Hold "Ctrl" and click the other pages' thumbnails and add the pages to the selection one by one. Hold "Shift" and click another PDF page to select a sequence of pages.
All pages rotation
Right-click within the "Thumbnails" navigation panel and click the "Select all" option from the menu to select all the pages of the document. Alternatively, use the Ctrl+A hotkey combination.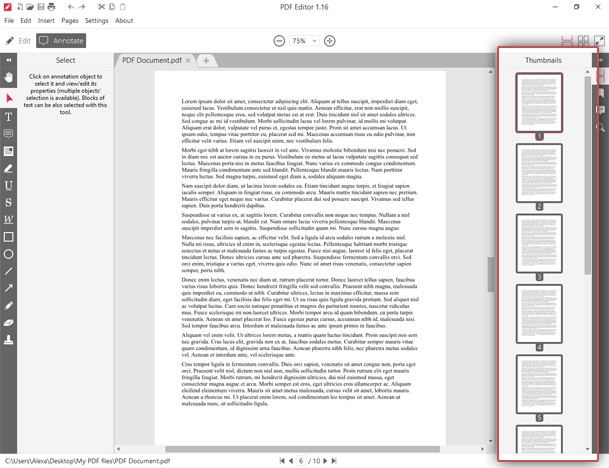 4
Rotate PDF pages and save
As soon as the required pages are selected, the last thing to do is to rotate the PDF's pages. There are two ways of doing this:
1) Click the "Pages" button in the top menu of the window of the program and select "Rotate clockwise" or "Rotate counter-clockwise". There are hotkeys available for each of these operations: Ctrl+= and Ctrl+Shift+= respectively.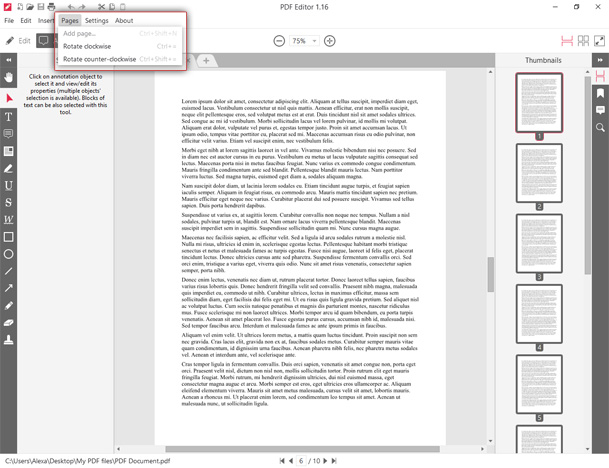 2) Right-click a page's thumbnail in the right-hand navigation panel of the program or right-click within the "Thumbnails" area and select the "Rotate clockwise" or "Rotate counter-clockwise" option from the drop-down list. The above listed hotkeys are also applicable.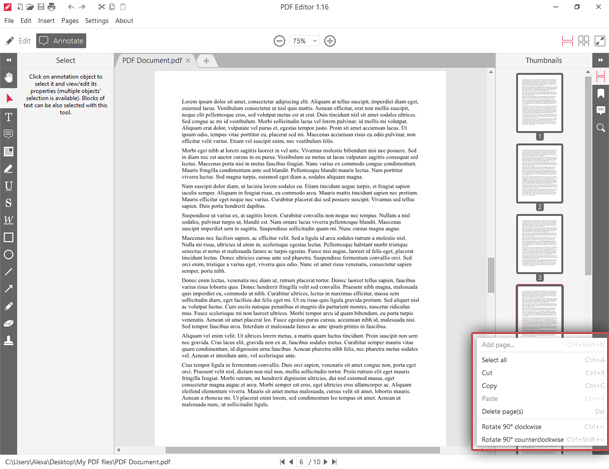 Once you have finished using the PDF rotate tool and the task is complete, you can save the changes in a document from the "File" menu of the program. The "Save" option will apply the rotation. Alternatively, you can use the hotkey combo Ctrl+S.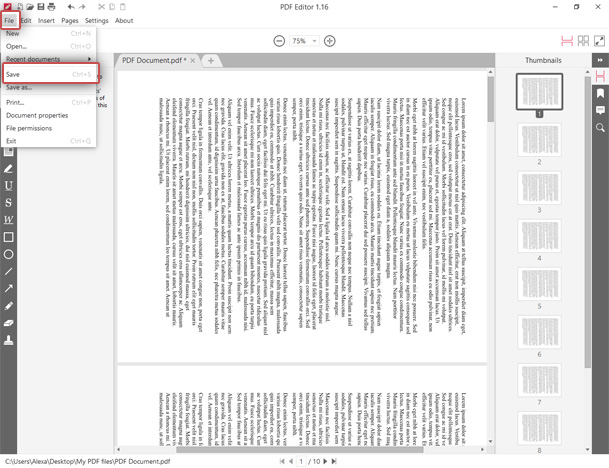 This quick guide tells you how to rotate PDF pages with Icecream PDF Editor. It's simple: open the PDF document, select the page or pages to be rotated, rotate the PDF's pages, and save the resulting file.

PDF Editor