How to Record a Teams Meeting on PC
Most online meetings, conferences, webinars and even dates have become commonplace in remote work and study formats. Many people use Microsoft Teams, but not everyone knows that there is an option to record Teams meeting so that you can return to it at any time.
For example, if you missed something, did not hear something important from what was said, or to repeat the training material, you can review the online event. In this article, we will tell you how to record a Teams meeting and offer you 2 ways to do it on your PC.
1. How to record Teams meeting with Icecream Screen Recorder
To record a webinar or an significant meeting in good quality, you will need to download Screen Recorder to your Windows PC and run the setup process. This recording software allows you to screen record desktop, as well as all actions performed on your computer. Thus, you will not only get a good picture of the meeting with sound, but also the saving of all your manipulations including mouse cursor movements and hotkeys used during the Teams meeting. In order to record Teams meeting with the software, follow a few simple steps: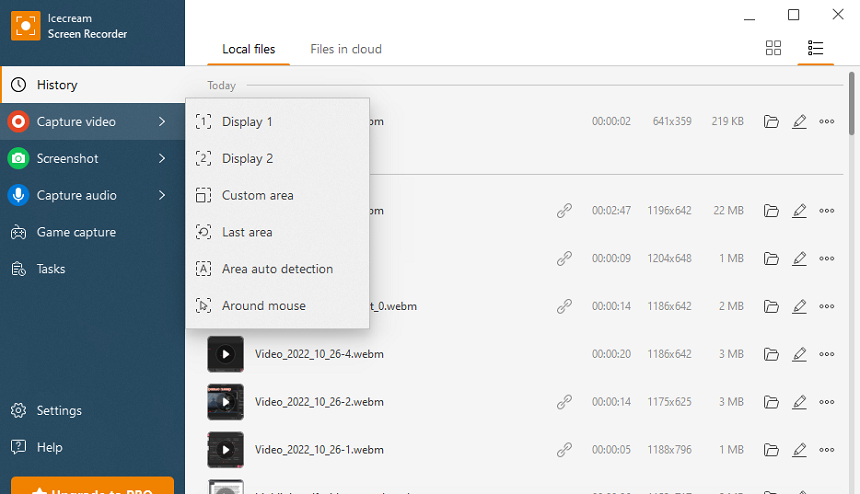 Launch your Microsoft Meeting in a browser or in a desktop app.
In Icecream Screen Recorder, hover the mouse over the "Capture video" button and click the "Full screen" to record a Teams meeting in full screen mode. That's way you'll get a better picture quality. Otherwise, hit the "Custom area" option to manually select the recording area.
Hit the "Rec" button on the toolbar to start the video recording. After a 3-second countdown, the actual screen recording will begin. Note that the free version of the software assumes only 5 minutes of video recording. Therefore, if you plan a long webinar, conference or lesson/class, you need to upgrade to PRO version.
During the Teams recording, you can use the F7 hotkey to pause and resume video recording
After exiting Microsoft Teams meeting or as soon as it's finished, press F8 hotkey or the "Stop" button on the recording panel. Screen recorder prompts you to specify the file name. Simple editing of the video is also available at this stage along with the feature to upload Teams recording by URL.
Additional tools of screen recording software
After you stop the Microsoft Teams recording, the software will offer you to use a built-in video editor. You can change the filename and format, resolution, speed, mute and trim video in it.
Throughout the Teams meeting recording you can use "Draw" panel to highlight important parts, make notes, add text, point out significant parts, etc.
If you plan to broadcast your desktop to a meeting, it is better to hide the toolbar of the screen recorder. Enable this option in the "Video" tab of the "Settings" panel of the app.
Zoom in and out using the F9 and F10 hotkeys or use the relevant buttons on the toolbar.
Enable and disable audio and microphone recording if needed.
Disable mouse movement recording not to show your cursor in the Teams recording.
Advantages:
Upload videos to cloud for quick sharing by URL;
User-friendly and simple interface;
Modern design with 4 color schemes;
Impressive number of settings and options;
Built-in video editor.
Disadvantages:
Allows you to record Teams meeting on Windows OS only.
2. How to record a Teams meetings in Microsoft Teams software
In order to video record a Teams meeting, you need to know a few rules that Microsoft has defined: 1. Not all users have the right to record meetings. Only the administrators are authorized. 2. The recording time cannot exceed 4 hours. 3. If the built-in recording tool is turned on, all participants will be informed with a relevant message. 4. To make a video copy of a meeting, you must purchase one of the paid Teams plans.
If your plan meets the terms and your actions will violate them, follow the instructions below: 1. Launch the Microsoft Teams desktop app. 2. Left-click the "Additional actions" icon in the Microsoft Teams app. 3. Select the "Start recording" from the list. 4. All the participants will see a notification at the top of the screen. 5. You can stop the video recording in two ways: manually or by waiting until the end of the meeting. To manually stop the recording, go to "Additional actions" as described previously, and press "Stop recording".
There is also one more thing to consider. The saved copy can only be viewed by the administrator, other the users can access it online via a link.
Advantages:
This Teams recording method doesn't require additional installations.
Disadvantages:
All participants know that you are recording the meeting;
One of the paid plans is required;
Annotations along with notes and whiteboard is not recorded;
Only 4 people's streams can be recorded
The video file is only available to the administrator for a set period of time.
Summary on recording Microsoft Teams meetings
We looked at two free ways to record a Teams meeting on a Windows PC. Obviously, the first method gives you much more options and the ability to not only save the video on your computer right away so you can access it at any time, but also to upload the Teams meeting to the cloud. What's more, you get to record the screen along with everything that happens on your desktop. The second method is very limited in capability, in recorded content and forces you to get the file immediately until the Microsoft Teams meeting administrator deletes it first.
There's no way you can pause live streaming video. That is why the question of how to download or record ...
15,045
When it comes to Windows applications, it's easier to demonstrate how they work as a video instead of wasting hours ...
15,993
Sometimes it might happen that you need to record something on your PC while you know that you won't be ...
5,528