Best Free PDF Editor: Top Choices
Many users whose work is related to working with digital documents have had to deal with finding a free PDF editor to modify the files of this format.
Unlike a simple DOC file, which can be opened by virtually any text editor, it is not so easy to edit PDF. This requires a program which accurately recognizes text and graphic objects. Today we will talk about the most popular free PDF editors that you can count on. Read our editorial review below.
1. Icecream PDF Editor - the best free PDF editor for all your needs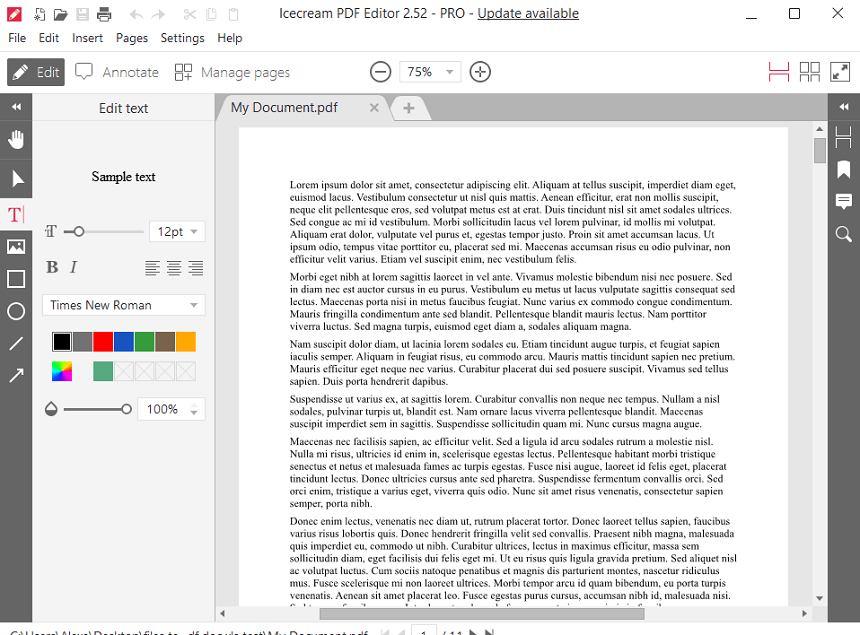 Icecream PDF Editor is one of the most convenient and simple PDF editors with a wide range of features. No special skills are required to work in the program, so even a beginner can use it. It is equipped with flexible settings and a large set of tools to annotate and edit PDF documents.
You can draw and add new and edit existing text in PDF, add comments and pictures, create geometric objects and pointers, as well as create new files from scratch. The "Manage pages" mode will help you to delete, rotate and add new pages as well as merge PDF document.
The free PDF editor app works quickly even on outdated computers, as it is not demanding on the technical characteristics of the PC. In addition, the PDF editing software takes up little space on the hard drive, which has a positive effect on the workload of the laptop.
Pros
User-friendly interface;
Free PDF editor for Windows 11, 10, 8 and 7;
Has a wide set of tools including the feature to edit PDF text;
Does not require high PC performance, as well as an Internet connection;
Convenient layout of the toolbar buttons and other controls;
The free version of the PDF editor contains all the necessary functionality;
Fast software installation.
Cons
Works only on Windows computers and laptops.
2. PDFsam Enhanced - edit PDF files and convert them in a single software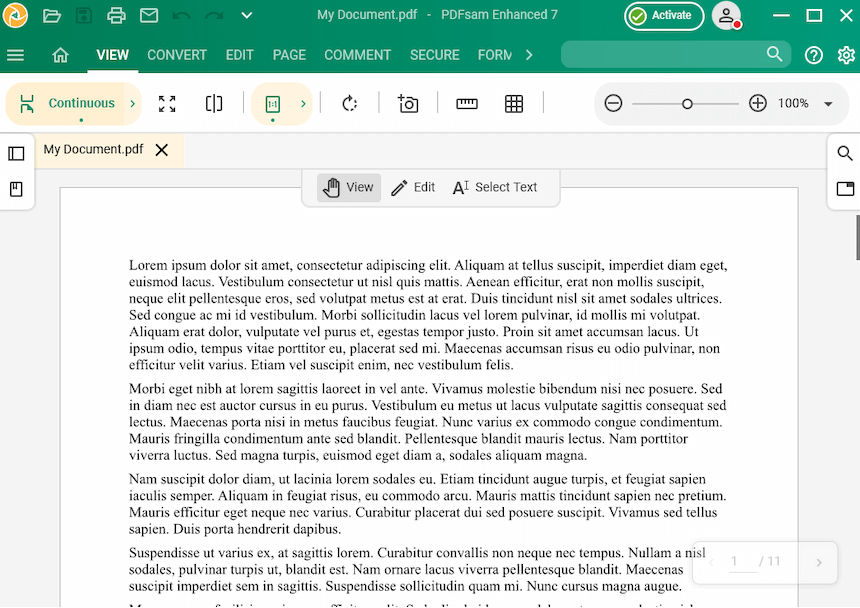 A fine looking and functional free PDF editor. The interface is quite clever and the user can switch between the main modes using the menu at the top of the program window. A nice bonus is that the program can not only edit, but also convert PDF files.
Built-in OCR (optical character recognition) will be handy for working with document scans. Creating different forms is available along with a wide range of annotations such as watermark, page numbers, PDF stamps and more.
Product registration is required to edit PDF in this program, which might cause certain difficulties when working.
Pros
The basic version of the program is distributed free of charge;
Works with all Windows operating systems;
Free PDF editor with built-in converter.
Cons
Requires registration;
The PRO-account with extended functionality is quite expensive. The average price of a standard license is $69/per year.
Presentation of PDFsam Enhanced ->
3. PDF-XChange Editor - loaded with features PDF editing software
This is a fairly high-quality clone of the popular PDF editor from Adobe. It does a pretty good job of reading, recognizing, and creating PDF documents. The program is compatible with Microsoft Office products, but has a rather limited free version.
In its full version, the program is able to efficiently edit PDF pages, insert comments and graphics, highlight areas and text. You can also save processed documents in various formats, which increases the functionality of the software. Since OCR is available, the PDF to Word conversion in this free PDF editor is rather precise. Add, edit and fill in PDF forms in this app, too.
Pros
Relatively large set of tools even in the free version;
Flexible settings;
User-friendly interface;
Fast installation on your PC and PDF upload;
Compatible with all the latest 32- and 64-bit versions of Windows.
Cons
Some features require the purchase of a PRO account;
The large number of tools and controls can cause some difficulties for PDF editing beginners.
PDF-XChange Editor overview ->
4. Inkscape - open-source free PDF editor
This is a fairly powerful tool for opening files, annotating and editing PDF. This software creates vector images and various shapes on PDF so it's a great tool for visual presentations. Since the PDF editing app is open-source, there's a way to expand its functionality with extensions.
Even if it's not the ideal tool to edit a PDF, you can still try it to find some use for it. Especially considering the fact that it is an open-source program and all the features are available for free.
Pros
Simple interface that will be intuitive level even for a beginner;
Available for Windows, macOS and Linux;
Does not require high technical characteristics of the computer;
Ability to save files in different formats, including JPEG, GIF, BMP, and more.
Cons
Doesn't edit PDF text, only adds new content.
5. PDF24 - free online PDF editor with basic functionality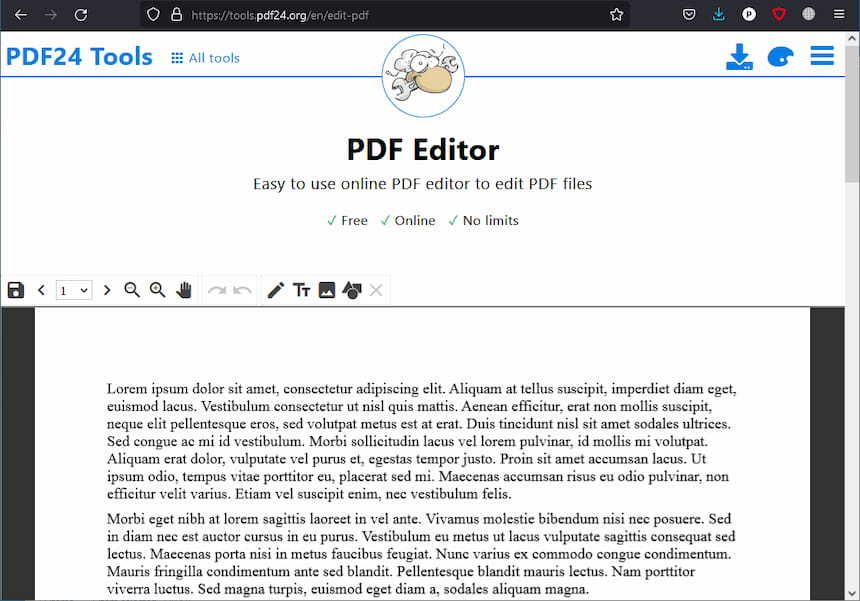 This is a fairly simple online PDF editor for making minor changes to a document. Note, that only high quality PDF files can be processed by the service. Otherwise you'll be offered to convert PDF to Word and edit the document with a text editor instead. Also, there' no feature to edit PDF text or highlight PDF, but you can add new text along with images and shapes.
Pros
Free PDF editor app;
Simple interface with basic functions that even a beginner can use.
Cons
PDF editor with a modest functionality;
Unattractive interface;
Relies on Internet connection;
Only edits PDF with sharp text, doesn't work with scans;
Not suitable for professional use.
Summary
We have reviewed the best free PDF editors currently available. Some programs hide advanced options behind a paywall, some offer only a specific stripped-down feature set.
Every user has encountered difficulties with PDF files at least once. For example, how to edit existing text in PDF?
11
Today, in the heyday of digital technology, extra attention is paid to the protection of personal data. This is due ...
5
PDF files can be easily opened and viewed, but editing is much more complicated – especially when it comes to ...
14,420