5 Best HD Screen Recorders of 2022
To get a beautiful and detailed videos, it is recommended to record screen HD quality with a resolution of 720p or higher. However, not all programs can produce screen recordings in high video quality.
Today we have prepared for you the top of 5 best HD screen recorders that will perfectly deal with this task. Despite the fact that all these programs are different, they have in common the highest quality of recording and sharpness of the picture. All you have to do is simply choose the HD video recorder that suits you best
1. Icecream Screen Recorder - the best HD screen recorder with intuitive GUI
This is a free HD screen recorder not only perfectly records desktop, but also the sound from the microphone, system sounds, and webcam video, too.
A simple and intuitive interface will not cause problems even for novice users. With this screen recording software it is possible to record the whole area of the screen or a certain part of it. The built-in editor allows you to immediately process the resulting high def recordings.
Videos in HD quality usually take up a lot of space on your computer. The screen recorder provides options for uploading content to Google Drive, Dropbox, YouTube, and for uploading it via a link to a server for fast sharing.
If you want to record a webinar that starts later, just set up a scheduled video recording. It will start and end at the time you set in the program.
Pros
Built-in editor to trim videos and more;
High quality free screen recorder with easy learning curve;
Capture the entire screen or a specific part;
Various hotkey combinations are supported;
Flexible settings;
Draw and annotate;
4 various color themes of the interface.
Cons
Some features (hotkeys and scheduled recording) are available only in the Windows version of the HD screen recorder.
2. OBS Studio - open-source free HD screen recorder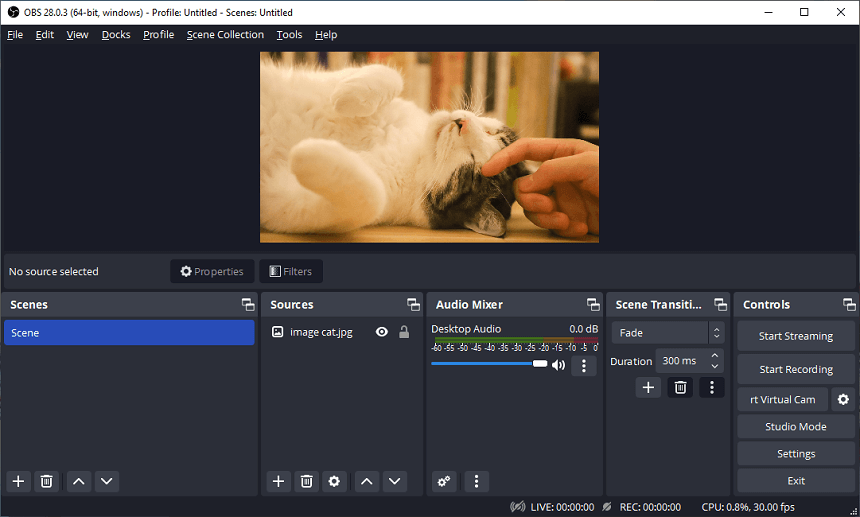 Quite a powerful high quality free screen recorder with a lot of useful functions and settings. With this software you can record computer screen in HD quality, stream video, and capture data from external devices.
Options to set resolution, bitrate, formats and codecs allow you to create high-quality video material for uploading to popular hosting sites and social networks for personal use.
Pros
Great functionality for HD recording;
Flexible settings for recording from different sources, such as games, webcam, browser, and so on;
Available for Windows (all versions, starting from XP), Mac and Linux.
Pros
Steep learning curve;
Lack of a built-in editor;
Cluttered reference library.
3. Camtasia Studio - high quality screen recorder and video editor
This video recording and editing package has quite a lot of functionality, so it perfectly is suitable for professional use. Note that the trial free version is only available after creating an account. Therefore, you need to prepare for HD recording in advance.
Record the entire screen as well as a specific area of it and enhance the video with text, various effects and some other features available in the video editor. It also helps you process video content before downloading it to your hard drive. Flexible graphics settings such as frame rate (FPS) and resolution (up to 4K) make it easy for the user to optimize the content for specific needs. It could be a high-definition how-to for a colleague, a social media video, or a Teams meeting recording.
Pros
HD video recorder with intuitive interface;
Great functionality and extensive settings;
Compatible with Windows and macOS;
Convenient program management.
Cons
Some features are limited in the free version;
New user registration is required.
4. iSpring Free Cam - high quality screen recorder for instructional videos
A fairly simple screen recording software mainly targeted at creation of video guides. Due to the fact that during the recording, the mouse is activated, and its clicks are accompanied by animation and sound, it is very easy to show the sequential actions on the computer.
The software has a built-in audio editor with minimal yet quite sufficient set of features. The simple interface of this HD video recorder will not cause any problems even for novice users.
The free version can be used for 14 days without any restrictions.
Pros
Doesn't take up much space. Unpacked software is only 46 megabytes. This is quite a weighty argument in favor of the utility if you use low-powered laptops in your work;
Compatible with all versions of Windows, regardless of the bit mode of the OS;
Suitable for recording gameplay, video tutorials and webinars.
Cons
All files are saved in WMV format;
Windows OS only;
You will need to enter your email address to download the free HD screen recorder.
5. Snagit - software for high resolution screen capture
HD screen recorder with a large number of features that allows you to capture your desktop in high definition. The program is also capable of taking screenshots, automatically uploading recordings to hosting and cloud storage, and capturing audio and video content from external devices.
For professional use you will need to buy the PRO-version, otherwise some functions of the software will be unavailable. In addition, the screen recorder has an extensive interface, which may cause some difficulties for the first-time users.
Advantages:
Impressive functionality and wide settings with the ability to create your own presets;
Fast loading and operation.
Pros
The link to the trial version of HD screen recorder is send by email.
Summary
HD recording of any material allows you to show all the operations on the desktop in more detail when compiling instructions, record a lecture with good image clarity, without missing any information and much more. That is, it is better to choose a resolution of the recorded videos of at least 1280×720 pixels.
We've covered the most popular HD screen recorders. Everyone is free to decide which program to use based on their capabilities and needs. In any case, almost any program will do for some simple tasks. However, if you need to not only to record video content and sound, but also qualitatively edit all material, you should consider buying PRO versions of the software. Such recorders will provide a picture of high definition, good sound with the possibility of editing, as well as many other additional tools.
Many people face the need to record computer screen. You might need to reenact some sequence of your actions, or ...
8,199
Many users have probably at least once needed to create a video tutorial for their colleagues, record a gameplay clip ...
5
Today, in the age of digital technology, many people receive education remotely. All communication with the teacher takes place via ...
9