Best Video Editor Without Watermark of 2022
Creating and editing a video today may be necessary for absolutely everyone, regardless of gender, occupation, or age. After all, everyone records videos at school, at work, at celebrations. But such clips were not always of good quality due to the operator's inexperience. There comes the need in a video editor without watermark.
In order to process a video file and bring it to the next level, you will need a video editor. Most of the programs apply watermarks to the output file automatically. In this article we are going to share the most popular video editing programs without watermark in 2022.
1. Icecream Video Editor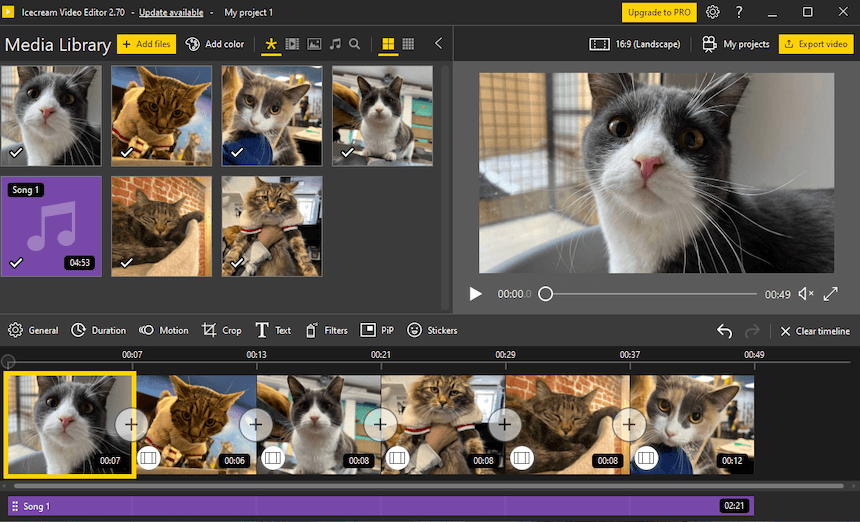 A simple yet powerful and functional video editor for Windows to create, modify and export videos without a watermark. Add videos, photos, GIFs and audio files to create content.
The functionality of the program allows you to do cool complex things. For example, overlay a soundtrack on video and mute the scene's original audio, crop and scale an image and trim a video and sound. In addition, this free video editor with no watermark can speed up or slow down the playback right during editing. Add stickers with text to create catchy videos for your social media.
The Picture–in-picture feature allows the user to add another clip to be streamed in parallel with the main one. This tool is often used by musicians and bloggers to edit their footage for video hosting sites.
Advantages:
Works on all 32- and 64-bit Windows operating systems, starting with 7;
Simple and extensive set of tools that even a beginner will understand;
Free video editing software without watermark with fast speed of conversion and content creation;
All the most popular features;
Project history helps to continue previous projects.
Disadvantages:
No automatic cropping of the entire video track;
Does not work on macOS.
2. DaVinci Resolve
The video editing software with no watermark allows you to edit your media content in a fairly high quality. Color correction tools, sound processing, visual effects help users to improve their video material and carry it to a professional level. Users can open up the possibilities of grading, working with animations and graphics, as well as sound processing.
This video editor is overloaded with features, which along with the option to collaborate on videos, makes it a great software for professional visual artists.
Advantages:
Video editor without watermark that is designed for professional use;
The apps' speed of work is accelerated by specialized modules;
Impressively large set of editing tools.
Disadvantages:
Overloaded interface can cause difficulties for video editing beginners.
3. Blender
The open source free video editing software (no watermark) was developed for creating 3D images. The latest versions are capable not only of creating virtual three-dimensional images, but also video editing, generating animations and visual effects.
Users can take advantage of GPU-, VR- and CPU-rendering capabilities. The program also supports PBR shaders and HDR lighting. However, this is only for highly skilled users.
All-in-all it is indeed a video editor that can export videos without a watermark, but it's definitely more suitable for 2D and 3D artists rather than for a TikToker or a YouTuber.
Advantages:
Video editor without watermark but with great capabilities;
Supports all stages of image processing, from creating objects in 2D and 3D;
Works with all desktop operating systems;
video editing is done in a single module.
Disadvantages:
High PC load. Users with weak technical equipment will face problems with "freezing" of the system;
Extremely difficult for beginners.
4. VSDC Free Video Editor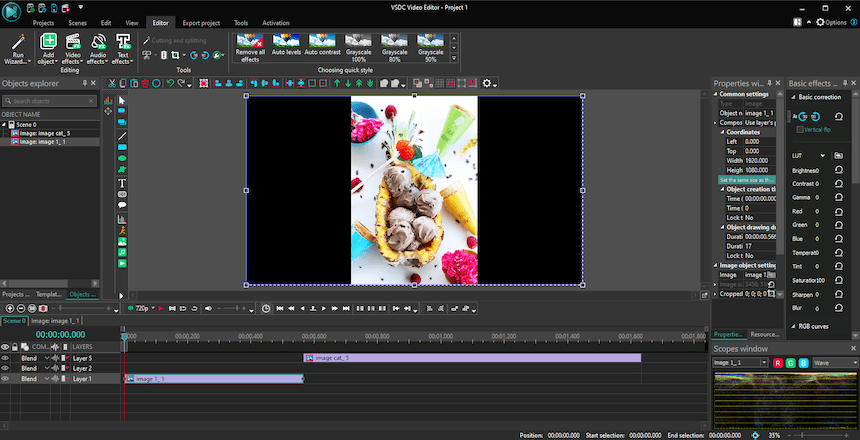 Free no watermark video editor designed for first-time users. Simple and clear interface opens a lot of opportunities. Creation of educational presentations, demonstration clips, diagrams. Works with most popular video file formats: AVI, MP4, MKV, WMV, 3GP, and others. For convenience, there are functions to convert videos and burn them to a DVD.
The tool is known for its handy Chroma Key feature and plenty of filters and effects you can apply to the scenes on the timeline.
Advantages:
Simple and intuitive interface;
H265/HEVC codecs support;
Compatible with all recent versions of Windows, including 32-bit ones.
Disadvantages:
Video editor without watermark but with ads.
VSDC Free Video Editor website ->
5. Windows Video Editor
Windows-based free video editor without watermark that was designed to change the duration of the clip, cut and trim unnecessary fragments. Great for processing media downloaded from popular video streams, hostings and social networks. Works with AVI, MKV, MP4, MPG and other file formats.
This is a great video editing software for quick tune up, very easy for beginners.
Advantages:
Very simple interface;
Video editing app that's already pre-installed in Windows OS;
Does not require high PC performance;
Disadvantages:
Lacks advanced options;
Works only with Windows.
6. Lightworks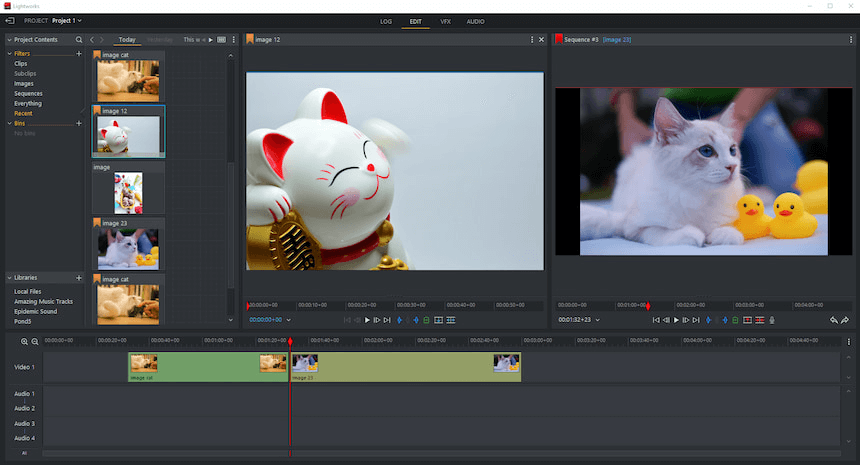 Powerful professional video editor with no watermark that is featured with highly intuitive interface. In addition to this, the tool offers built-in stock videos and images and tutorials that show how to use this video editing software.
The feature to synchronize between multiple webcameras and multiple output video options will be handy for content creators and social media influencers.
Advantages:
Large set of tools and functions for professional video editing;
Support of all OSs, cross-platform;
No video file length limitations;
Video editor with the tips and guides for the beginners.
Disadvantages:
Available only after registration and authorization;
Requires a premium version to unlock additional functionality.
Lightworks official website ->
7. HitFilm Express
A powerful software that is popular among professionals who need to export videos without a watermark. VFX tools allow you to easily create videos for social networks, video hosting and other platforms. You can use a large number of video effects, record sounds from external sources, work with 2D and 3D images.
Video effects and transitions will add a fancy touch to your content. Also, this video editor without watermark processes the content at an impressively high speed. Built-in presets and various templates and file library will help to create outstanding content.
Advantages:
Large set of tools;
Inexperienced users have access to training videos;
No watermark video editor with pleasant and well-thought-out interface;
Unlimited number of transitions in the timeline.
Disadvantages:
Steep learning curve for the beginners.
8. OpenShot Video Editor
An open-source and thus completely free video editor without watermark. This approach of the developers makes the program more flexible in settings. All standard tools and functions are available here for the users. These are scaling, Chroma Key, audio processing and others. The latest versions of the software have hardware acceleration to reduce the program's performance time.
This video editing app offers all the most needed features and options that are presented via a neat and not overloaded interface.
Advantages:
Suitable for processing short clips, e.g., for uploading to social networks;
Simple interface;
Constant updates.
Disadvantages:
High CPU load during file conversion;
No professional video editing tools.
Download OpenShot Video Editor ->
9. iMovie
A video editing application that works exclusively on Apple devices. Capable of working with files with up to 4K resolution. Users can add titles, speed up and slow down playback, use filters and video effects for transitions to export videos without a watermark.
It might be the top choice for the Mac users as the design of this video editor will be the most appealing for them.
Advantages:
Syncing projects across devices;
Standard set of tools and features to create a fairly high-quality video.
Disadvantages:
Compatible exclusively with iOS version 14 and above, as well as macOS;
No professional features to edit videos.
Summary
Now we have covered the most popular video editors without watermark in 2022. However, not all of them come for free. Before choosing, users should decide what they expect from the program.
Will it be a simple free utility without a watermark with little functionality, or a PRO version of the software with extensive features. The choice is yours.
Sometimes, a video itself is not enough to present information in full. Add text to video to provide subtitles and ...
5,234
Recording a video might be a challenging task considering that it's not possible to retake what was captured. That's why,
16,382
Most users are accustomed to working with the iMovie video editor, which is only compatible with macOS. If you work ...
9