Top 16 Screen Recording Software for Windows
There are quite a lot of screen recording software for Windows on the Internet with the function of capturing the desktop or individual areas of it. They have different features and functionality and can be divided into two major groups: free and paid screen recorders. Let's take a look at the top 14 screen recording software for Windows OS we reviewed in this article.
Free Screen Recording Software for Windows
1. Icecream Screen Recorder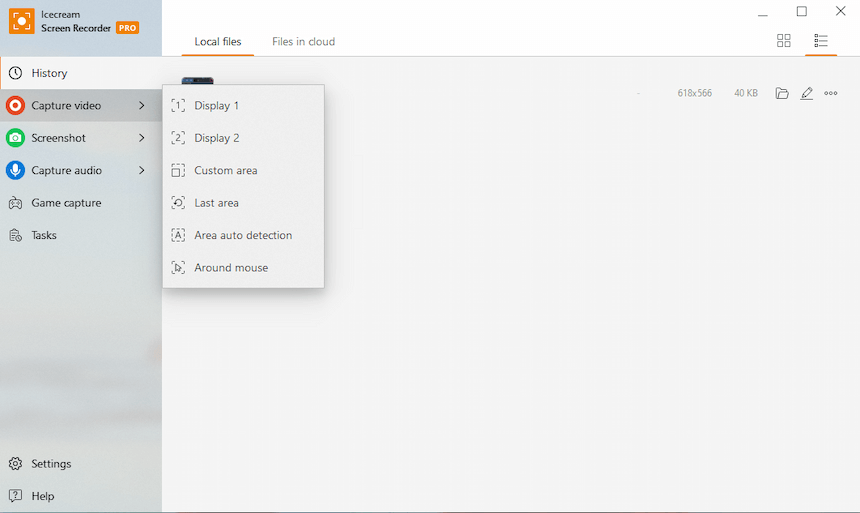 An easy-to-use screen recorder with intuitive interface and advanced features. Record full screen or a specific area, use the "Around mouse" mode, zoom in and out, schedule screen recording and more. Add webcam, capture audio (both speakers and microphone) and add custom watermark to created media files.
This screen recording software for Windows allows you to make video tutorials, reviews of popular products, create quality video material for your blog, website, social network account etc. Users also have access to: trimming videos and converting, changing the speed, adding animation for the mouse cursor and displaying the shortcuts.
This is a great program for teamwork, as you can upload screenshots and videos via a link. After all, it's much more convenient to share a link than a whole heavy video. Upload the recorded videos to the cloud and access them whenever needed online.
PROS:
Free screen recorder;
User-friendly interface;
Annotation during screen recording;
Free cloud storage space for the uploaded videos;
Supports addition of custom watermark.
CONS:
Blur feature is available for screenshots only.
2. Xbox Game Bar
In Windows 10 and 11 there is already a built-in Windows screen recording software that is activated by pressing "Win + G" hotkey combination.
By default, the resulted file is saved to the "Captures" folder. Before the first launch of the Xbox Game Bar the program will prompt you to configure several settings such as video quality, FPS and so on. In addition, the program has a menu to select the audio source (microphone or system sounds), as well as adjusting the sound volume.
This video recording software is a great option for quick and occasional recordings of apps or games. However, this won't record the desktop itself.
PROS:
Fast launch with hotkeys;
Absolutely free screen recorder;
Already pre-installed;
Does not consume much of the PC resources.
CONS:
Only records programs or games.
3. OBS Studio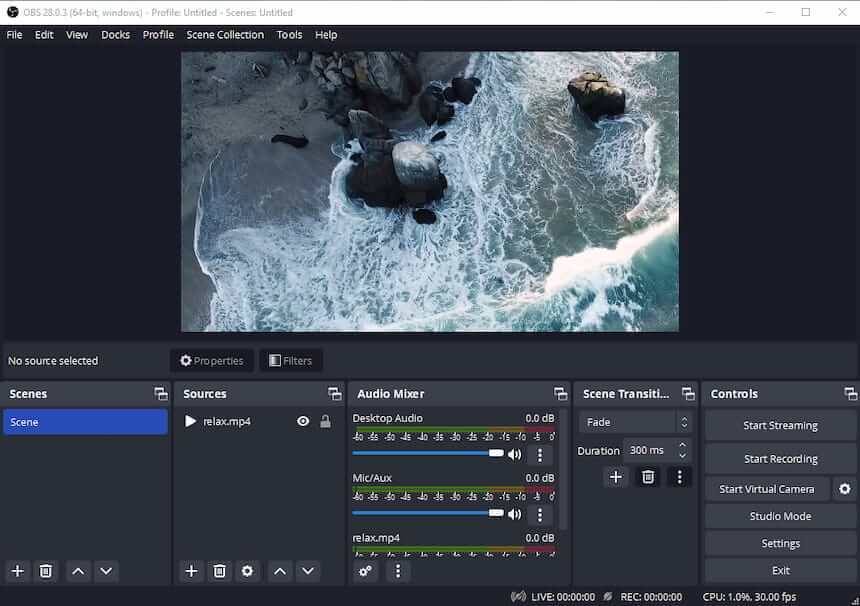 This open source and free screen recording software for Windows, macOS and Linux is mainly designed for streamers. It captures a specific screen area or full screen for broadcast to the network. In addition, the program allows you to preview content before displaying it to the audience. Various filters and custom transitions are available for smooth content creation. You can use special effects and chroma key, as well as select the stream type (FLV, MP4, OGG, etc.) to create a better video.
Since this video recorder is open source, you can use it for free and even tune it up if needed. However, we do find that a post-production video editor is missing in OBS (Open Broadcaster Software).
PROS:
Totally free screen recording software;
Compatibility with most online streaming services;
Wide chroma key settings;
Video stream is from numerous sources that can be combined.
CONS:
The interface might be confusing for novice users.
4. NVIDIA ShadowPlay
This screen recording software from NVIDIA was developed specially for gamers. You can use it to capture video while playing a game, take gameplay screenshots, and more. The recorder does not require you to have a PC with high performance. During the game and recording the app can be easily hidden to tray. However, it might slow down the gaming experience on lower capacity Windows computers.
Screen recording is turned on with the Alt + Z key combination. This video recording app has many filters, intuitive interface and is distributed along with driver packages for GeForce video cards from Nvidia.
PROS:
Streams while playing the game;
Compatible with most games;
Constant updates.
CONS:
Screen recorder does impact gaming process.
5. Free Cam
This screen recording software for Windows 10, 8, 7 is intended mainly for online learning. It allows you to record full screen or a specific area. The program has a simple and convenient interface, as well as the necessary functionality. The control panel is neatly organized and not overloaded.
There are features to record both microphone and computer audio plus the option to upload the screen recordings right to YouTube.
PROS:
Does not require large computer resources;
Takes up a little space after installation;
Free screen recorder with built-in video editor.
CONS:
Webcam recording is not supported;
No Windows 11 support.
6. FlashBack Express
Nice screen recording software for Windows with a built-in editor. Supports recording both full screen and specific area, captures web camera, audio, microphone and doesn't apply watermark.
It also offers the functionality to edit the recorded video, add text and graphic content, effects, as well as to overlay background music. It's great advantage is that you can screen capture multiple monitors at a time.
PROS:
Free version of screen recording software is enough to use the basic functionality;
User-friendly interface;
Works on less powerful laptops and PCs.
CONS:
Free screen recorder doesn't support HD and 4K videos.
7. Debut Video Capture
Simple and handy program for capturing video from your desktop, web or camera, as well as other USB devices. It is used to create video tutorials, master classes and presentations. Final files can be saved in the AVI, WMV, MP4, 3GP, MOV and ASF formats.
This screen recording software for Windows works on all Windows versions from XP to 11. You can add text, logo and apply color adjustment to your content.
PROS:
Quick start-up;
Flexible settings of the input source;
Various output video formats are supported;
Automatic detection of USB-devices.
CONS:
Video recorder with the outdated interface.
Debut Video Capture and Screen Recorder Software ->
8. CamStudio
Another open source free screen recorder with a narrow set of video editing features. The interface needs an update along with the list of the supported formats: a video recording can only be saved as an AVI video.
The program is undemanding to your computer hardware and is easy to operate. Record the screen entirely or select an area, as well as the active app or program window.
PROS:
Free screen recording software for Windows, no hidden fees;
Comes with its own Lossless codec;
Built-in help system and a support forum.
CONS:
Only AVI format is supported.
9. Bandicam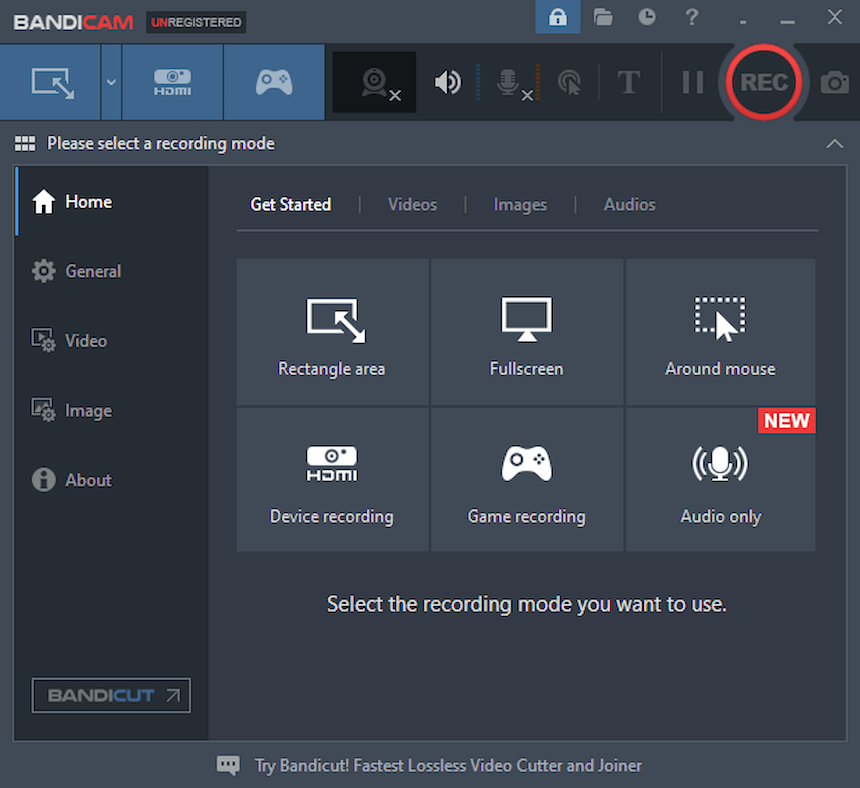 Screen capture tool for quickly recording video from the PC screen. The program allow you to capture the entire desktop, a selected area or a space around the mouse cursor. The function of displaying the number of frames per second (FPS) will be useful for gamers when recording gameplay or letsplay.
Screen Recording software for Windows offers flexible settings of the output file, e.g., its quality and compression level, provide great opportunities for using the recorded material. You can also upload videos directly to YouTube.
PROS:
Possibility to buy PRO-version with the improved functionality;
Handy quality settings;
No need to have a high-end PC;
Does not take up much space on the hard drive.
CONS:
Only AVI and MP4 formats are supported.
Bandicam free screen recording software ->
Paid Screen Recorder Software for Windows
10. Camtasia Screen Recorder and Video Editor
This is a screen recording software for Windows and Mac, which combines a video editor and a screen recorder. The toolkit is overloaded with features and options.
With the help of this software you can make recordings of webinars, lectures, presentations, even from a webcam. However, the free version is available only for the first 30 days. Then you will have to go PRO which is pricey.
PROS:
Straightforward interface;
Features a built-in editor for audio and video files;
Compatible with many webcam manufacturers.
CONS:
Very expensive screen recording software for Windows and Mac.
Techsmith Camtasia Overview ->
11. Movavi Video Suite 2023
Powerful media software package that includes a video editor, converter, screen recording app, as well as player and other useful tools.
The video recorder includes an extensive library of various templates, filters, titles, and video effects. In addition to the standard kits, you can purchase a number of extra ones. Unfortunately, the trial version is very limited so the estimation process might not be sufficient.
PROS:
The hint function will be useful for inexperienced users;
Flexible settings.
CONS:
Too much for basic screen recording;
The trial version of screen recording software is limited.
12. Snagit
An easy-to-use screen recording program for Windows. It allows you to capture video content from various sources, such as a browser, an active application, a player, and so on. Snagit can add supplemental content to videos, as well as share images and GIFs.
The software records camera, audio, mic, captures panoramic screenshots (the scrolling ones) and trims videos, too. The free trial goes for 15 days.
PROS:
Does not require high computer performance;
Great functionality to screen record;
Flexible settings.
CONS:
13. HyperCam
Fast and powerful screen recording software for Windows that offers all the important features. It has a wide range of settings and features, such as:
screen capture with system sounds;
webinars, meetings and conference recording;
video processing;
capturing, recording, and publishing material to popular online platforms;
recording system audio in an mp3 format.
The utility saves the content during the screen recording. This allows you to keep the data in case of a power outage or unstable Internet.
PROS:
Attractive interface;
Screen recorder with no recording limit;
Watermark free
Adjustable settings.
CONS:
No feature to share videos.
14. AVS Video Editor
Screen recording software a wide range of tools for working with video format files. In addition to a powerful editor, the utility is capable of capturing video content from various sources. It includes a converter, utilities for burning data to DVD, and a large library of templates and filters, too. The video recorder allows you to create content and publish them immediately to popular video hosting sites.
PROS:
Powerful program for professional use;
Screen recorder with a straightforward interface;
Wide range of settings.
CONS:
No feature to add text to videos.
AVS Video Editor's presentation ->
15. Screencast-O-Matic
Screencast-O-Matic is a comprehensive screen recording software for Windows, MacOS, Android and iOS. It offers a user-friendly interface and provides various customization options to suit individual screen capture preferences.
This video recorder allows for capturing in high definition and also supports the capture of both audio and video. Furthermore, it enables users to create interactive slideshows with voice-over narration, annotate screen recording with arrows, shapes, text boxes, and more. Additionally, Screencast-O-Matic records webcam or smartphone camera while simultaneously recording the desktop screen.
This is one of the best screen recording software to create engaging tutorials and presentations. With its built-in editing tools, users can trim, add transitions, titles, music, adjust speed, and much more.
In sum, Screencast-O-Matic is an effective screen recorder that provides comprehensive features for capturing motion and sound from your display. Furthermore, the software supports the capture of both audio and video in high definition quality as well as the ability to share recordings in a variety of formats on social media platforms or via email or cloud storage services.
PROS:
Supports a number of popular formats, including .mp4, .wmv, .webm, .mov, .avi, and .flv;
Record screen and edit the videos, too;
Built-in stock media library.
CONS:
Watermarks the videos recorded in Free version;
Not the best screen recording software for beginners.
16. EaseUS RecExperts
EaseUS RecExperts is an intuitive, user-friendly video recorder perfect not only for screen recording, but for audio recording and screenshots, too.
This video recording software allows you to record at full HD resolution and capture high quality images with excellent color accuracy. Use the built-in audio recorder to capture sound and add voice overs to your videos.
The intuitive interface makes it easy to customize screen recorder settings like frame rate, size, output format, and more. Access the advanced features, such as the ability to pause and resume recordings or export them directly to popular formats like MP4, AVI, MOV, WMV, FLV. Videos can be turned to GIFs and audio recording can me saved in MP3, WAV, AAC and other formats.
EaseUS RecExperts includes a powerful video editor. Use it to trim and mute recorded content. The screen recording software's built-in scheduler is perfect for setting up up recordings in advance. Use it not to miss any important webinars, streams or meetings.
Overall, EaseUS RecExperts is an excellent choice for anyone who wants an easy-to-use screen recorder that captures high quality video and audio without any fuss. It's reliable, straightforward, and packed with features that make it ideal for all levels of users.
PROS:
Feature rich screen recording software for Windows and MacOS;
Records 4K and HD videos;
Easy to install and use – no technical experience needed.
CONS:
Free screen recorder is limited to 2 minutes of screen capture.
Trial version adds the watermark.
How to find the best screen recording software for Windows?
We have selected for you the most popular questions and answers that relate to screen recording on PC.
Question 1. What is the best way to record video and together?
Answer: The absolute majority of screen recorders allow you to capture both screen and audio at the same time. To ensure quality audio and video, you should adjust the relevant settings in the software.
Question 2. Is it possible to record a specific area on my screen?
Answer: You can record a specific area of your screen in any decent screen capture software.
Question 3. How do I record my webcam?
Answer: To record webcam you need to enable this option in the recording settings. Then make sure your webcam is connected and turned on. Adjust the needed settings for the best results.
Question 4. How can I edit my recordings?
Answer: Plenty of advanced free screen recorders offer basic video editing features, such as trimming and cropping. For more advanced editing, you will need to use a dedicated video editing software.
Question 5. Can I record online courses?
Answer: Yes, you can record a webinar, courses or other educational material. You can pause the recording for your convenience, mute the microphone and annotate videos for more convenience.
Question 6. Can I record a meeting with a video recording software?
Answer: Yes, you can record a Teams meeting along with Skype, Zoom and other messengers. Go with the full screen mode and make sure your microphone is on.
Question 7. Is it possible to schedule screen recording?
Answer: Yes, some video recorders offer the ability to schedule recordings. Icecream Screen Recorder allows you to set a start and end time, as well as a specific day to record the specified desktop area. This feature is especially useful if you're recording something that takes place at a specific time in the future.
Best Screen Recording Software for Windows: Conclusion
In this article we reviewed the most popular and relevant commercial and free screen recording software for Windows. Some are better for game recording while other are perfect for quick and occasional tasks.
Many people face the need to record computer screen. You might need to reenact some sequence of your actions, or ...
8,199
21 century gave us an exceptional privilege of getting any kind of information in mere minutes without even leaving a ...
9,682
Screen recording comes in handy when creating video tutorials, recording your own personal tips and let's plays, saving important moments ...
0